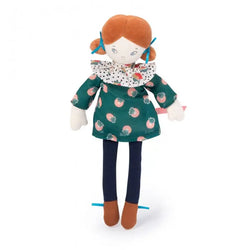 Moulin Roty
Blanche The Parisiennes (small) - Doll
Mademoiselle Blanche from the "Parisiennes" collection, is a very stylish plush doll strolling through the streets of Paris. This stylish young lady is elegantly wearing a green patterned dress with a dotted collar, a cotton legging and two blue ribbons in her hair. 

Specifications
Recommended Age: 1+
Material: cotton, polyester, acrylic, metallic fibers
Size (inches): H: 10,24
Weight (lbs): 0,08
Care instructions: Machine washable at 30°C on wool cycle. No tumble dry.